Lawn on Feb 6th, 2016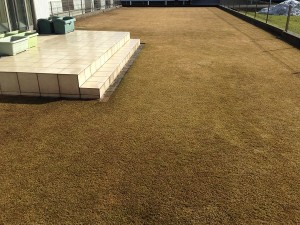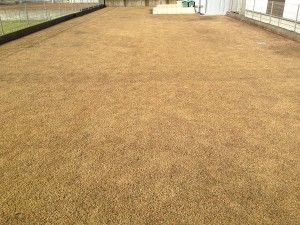 It snowed in the first half of this week, but the snow's gone because it rained in the last half. Lawn is completely in brown because of the winter dormancy. Such a bronw lawn make me desire "shiba-yaki", which means burning lawn. It was in 2013 that we burned our lawn first time. It burned well that time. Only putting the fire in the leeward corner by long lighter caused spontaneously spreading fire and burned the entire lawn. It was like "shiba-yaki" ceremony in Korakuen though the scale is smaller. We've trie every year since then, but couldn't burn quite well. Though we burn the entire lawn using Choro-yaki-kun (Deka-bi GT-50E) because the fire doesn't spread spontaneously, the impression is that it's not like burned, but like charred.
The difference between the burned and unburned is mainly determined by the climate conditions. Several succesive sunny days and dried-up lawn are required at first. Then the tempareture and the sunshine on that day are important. High temperature is requred becaue it doesn't burn in cold whather. In a clouded weather, the temperatures of the lawn and the ground are too low to burn.
Though they burn lawn on January 31st in Shiono-misaki Boro in Wakayama prefecture and on February 3rd in Korakuen in Okayama, it is not in such a good condition until the end of March or April in Toyama in Hokuriku.
Then the grass length affects. The longer, the lawn burns the better. Modest length is prefered, because it burns too much and the flame becomes too strong if it's long. We've been adopting TM-9, which has a low grass height, since 2013. In addition, we purchased Baroness LM12MH, and maintained the lawn in a further low cutting height since last year 2015. Therefore I am not certain if it burns this year, but I want to try it in any case. I will inform you if it goes well or not in this blog again.

The snow in the entrance has also disappeared, but I won't remove the snow covering for conifers and ash, yet. It's because I removed winter covering in early spring in last year 2015 since the snow had gone, and then a conifer fell down from the root because of a big snow after that.